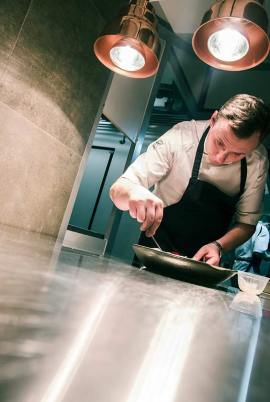 Piotr Kwiatosz
Executive Chef
Let me start by explaining why Chapter One, when the first restaurant 16 Tables prospered properly and with the right level.
This is the first chapter, from prosaic but emotionally undeniable matter. This is the first restaurant that was created from ruins, a lot of dust, a storm of ideas and as a consequence of meticulous renovation work. Well deserved 16 Tables is a project taken over, however, I was in it from the very beginning, as a head chef and employee to become a co-owner and head chef invariably. Chapter one is a project written from tabula rasa, clean as a tear, let it be created still crystal, raising consciousness, giving memories and waking up longing that does not soothe anything but only revisit, revisit and revisit. In beloved 16 Tables, with humility, I myself and my team approach the Polish cuisine, its ingredients, its natural rhythm is especially important to us. The restaurant is definietly not small, so that we create the menu the best possible way in order to fulfill the needs of the guests, who entrust us with their taste and emotional desires. We value their time and intentions for which they meet at each of our, or rather their tables.
At some point in the development of the home restaurant, dreams were born to go a step further, the idea to be able to incorporate emotions into a perfect food. Emotions unsusual, because personal and spontaneous. Presenting my own culinary experiences from the childhood, in an innovative way to express an extraordinary legacy of grandmothers' taste, who cook extremely well, humbly using what their mothers taught them. Combining this bravely with the knowledge and history of Old Polish Cuisine, I hope to promote an unusual, balanced and touching to tears style, these positive drops of happiness. This restaurant is a small, hospitable room with a kitchen, there in the group of twelve people lovers of traveling through flavors, the meeting can be held in a closed, intact group.
This place is my personal meeting with every regional product and Old Polish Cuisine, its interpretation and constant development over its taste and texture. It is dynamic but secure rhythm of the region of Lublin flavors. A place where flavors and aromas meet with excellent wine and distillates, from our Polish soil, which draws from the knowledge of our ancestors. This is a place where nature, passion and taste of generations and the region meet in the same place and time.
I am kindly inviting You
piotr kwiatosz.
Chapter One is literally the first chapter for me, it is the first card of fine-dining in Lublin, and this puts a lot of challenges but at the same time possibilities for our team. I am glad that we can present something unusual and innovative on the culinary map of Lublin. Our main aim is to create your memories, moments to which you will come back in the future. I enjoy your every smile at the table, that is why we do our best to evoke it, not only by the taste and appearance of the dishes, but also the service and atmposphere. We often surprise with combinations of flavors, choice of spirits and also by the way how the service is conducted and by hearing your opinion, we discover the most important direction in which we should follow. Rush energetically and with verve, a sack of cordiality and sincere unconditional hospitality, because there is nothing better but to see your happy faces.
You are more than welcome.
marek staniak.